The DC Policy Shop Manifesto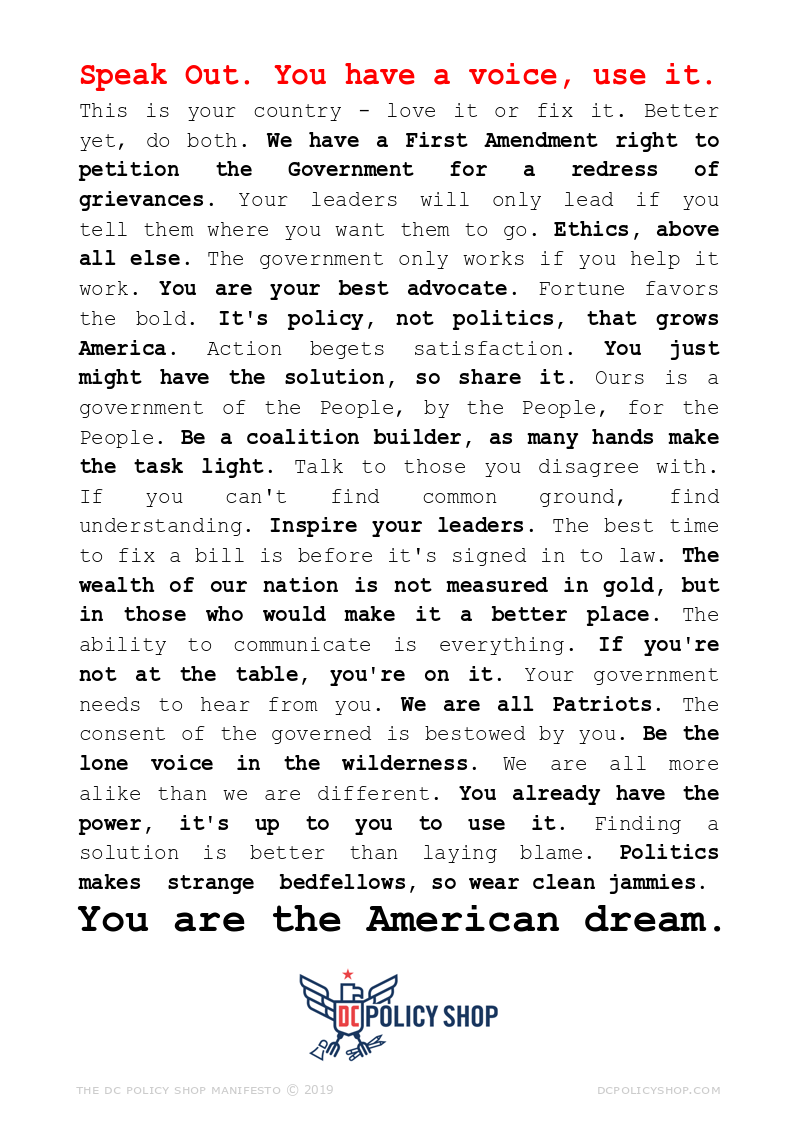 Great news: We're getting ready to launch the DC Policy Shop Blog and Software Platform! Because of this, we thought it would be good to let folks know what we're all about. DC Policy Shop is a searchable online advocacy platform that will help you get your policy videos and docs noticed on Capitol Hill and by the journalists who cover it. It's a tool specifically for businesses, government relations pros, trade associations, and law firms. DC Policy Shop is a cost-effective way to manage coalitions and multiple clients, giving each their own professional, secure web presence. And you'll find informative articles on our blog on how to work with the press and how to engage in effective, ethical lobbying. You'll even see interviews with policy pros, journalists, and wonks alike on their experiences in working with Congress and the Administration.
We at DC Policy Shop take the profession of government relations seriously. It's an exercise borne from our First Amendment Constitutional right to petition the Government for redress of grievances, but it's more than that. It's the confluence of thoughtful legal analysis, a disdain for stagnation, and the desire to better the lives of our fellow citizens to make ours truly a more perfect union. This is policy, not politics. We see it as helping people find their voice and having it be heard where it matters most: in the state houses and legislatures in every state capitol and in the halls of the U.S. Congress.
Whether you're with a trade association, think tank, law firm, or company large or small, excellent advocacy needn't be out of reach. Join us as we make lobbying more accessible, more transparent, and more effective for all Americans. Sign up today!
---